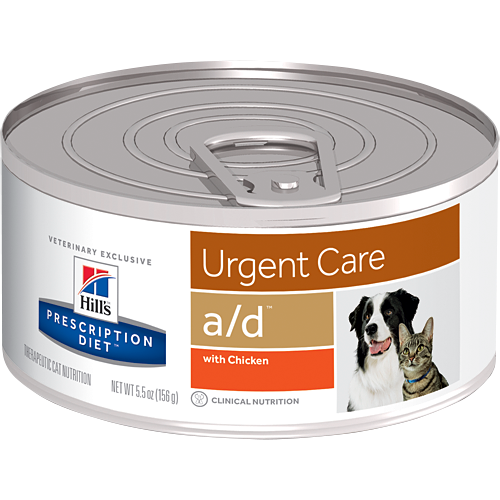 Hill's Prescription Diet a/d Canine/Feline Critical Care Canned
For the nutritional support of pets recovering from serious illness, accident and surgery 

Cats and dogs can undergo significant metabolic changes when recovering from a serious illness, injury or surgery. During these stressful conditions the body is challenged to maintain strong natural defenses and spare lean body mass, which makes it is even more important to feed the right food. Cats and dogs need extra energy and nutrients, in an appetizing form, to encourage the recovery process.

At Hill's, nutritionists and veterinarians developed clinical nutrition especially formulated to help dogs and cats in recovering process
Prescription Diet® a/d® is formulated with the following benefits:
Highly digestible ingredients and extra calories to help during recovery
Highly digestible proteins to help wound and tissue healing, preserving lean body mass and promoting a healthy immune system
Increased level of potassium to help avoid depletion
Highly palatability with a soft consistency aids acceptance by inappetant pets and gives flexibility in feeding -- by bowl, spoon, syringe or feeding tube
100% Guarantee We're confident your pet will enjoy Hill's® Prescription Diet® foods. We're so confident that we offer a 100% money-back guarantee.*
* 100% Satisfaction Guarantee - if you are unsatisfied for any reason, return the unused portion to the place of purchase for a full refund or replacement.