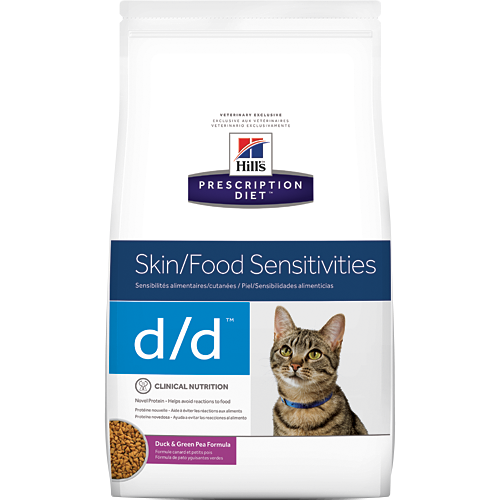 Hill's Prescription Diet d/d Feline Duck & Green Pea Formula Dry
Skin/Food Sensitivities 
There can be a variety of reasons for your cat's itchy, scratchy skin condition, including sensitivities to food. The good news is, most cats with these skin conditions can benefit from simply eating the right food.
Hill's nutritionists & veterinarians developed
Prescription Diet®
d/d® clinical nutrition especially formulated to support your cat's skin and food sensitivities. In fact, d/d is clinically proven nutrition to help avoid reactions to food.
How It Helps:
Helps improve digestion & stool quality
Visible improvement in skin & coat
Helps maintain a healthy skin barrier
Supports a healthy immune system
How It Works:
Limited ingredient nutrition with single intact animal protein
Free from soy protein
Gluten-free
High levels of Omega-3 and 6 fatty acids
Clinically proven antioxidants
100% Guarantee
We're confident your pet will enjoy Hill's
®
Prescription Diet
®
foods. We're so confident that we offer a 100% money-back guarantee.
*