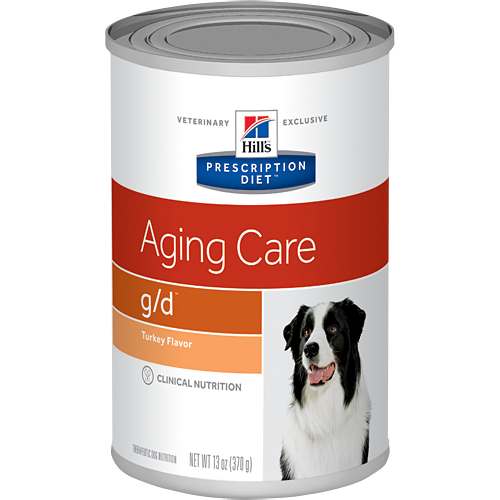 Hill's Prescription Diet g/d Aging Care Canine Canned- Turkey
Regular price $65.93 Sale
For the nutritional support of senior dogs.

As dogs age, they may require food designed to help reduce nutrient excesses that could be harmful to their system. For example, high levels of sodium, phosphorus and protein can cause increased workload in the kidneys and heart.
Kidneys are very important to the health of your dogs because they remove waste substances from the blood and maintain the normal balance of fluid and minerals within the body. Once kidney damage occurs, the consequences are usually irreversible.
The heart is the most important organ in you pet's body, and factors such as age or weight may affect its function. Poor heart health can affect your dog's lifestyle and mood.
Because the food your dog eats plays an important role in his or her overall health and well-being, at Hill's, nutritionists and veterinarians developed clinical nutrition especially formulated to support your older dog's kidneys and heart for overall health.
Prescription Diet® g/d® is formulated with the following benefits:
Reduced phosphorus to help minimize stress on aging kidneys
Reduced sodium to help maintain normal blood pressure
Reduced protein to help decrease kidney workload
Optimal fat levels to reduce pancreatic workload
Increased levels of omega-3 fatty acids to support kidney health
100% Guarantee We're confident your pet will enjoy Hill's® Prescription Diet® foods. We're so confident that we offer a 100% money-back guarantee.*
* 100% Satisfaction Guarantee - if you are unsatisfied for any reason, return the unused portion to the place of purchase for a full refund or replacement.