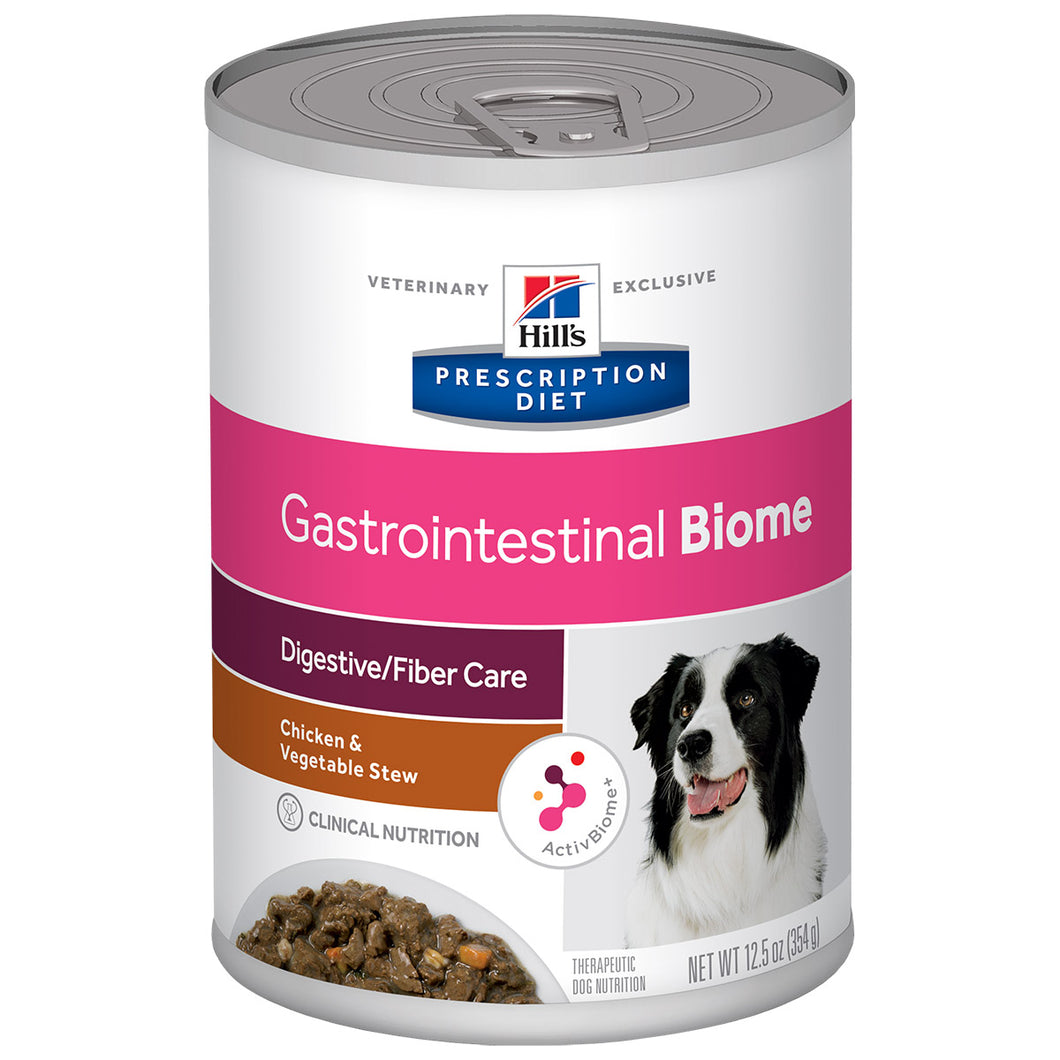 Hill's Prescription Diet GI Biome Canine Canned
Regular price $82.15 Sale
Digestive/Fiber Care
Your dog's digestive health can be negatively affected by many things and when your dog has digestive upset, it's a thoroughly unpleasant experience for everyone involved. The good news is that you can help your dog feel better with a food that revolutionizes the way to approach fiber-responsive GI issues by putting microbiome health – the unique gut ecosystem of your pet - at the forefront of GI care.

Hill's nutritionists and veterinarians formulated Prescription Diet® Gastrointestinal Biome nutrition with ActivBiome+TM, a new ingredient technology, to actively promote regular healthy stool and help reduce risk of future episodes.
How it works:
• With breakthrough ActivBiome+TM ingredient technology
• High levels of Omega-3 fatty acids (DHA & EPA)
• Optimally balanced soluble and insoluble fibers


ActivBiome+ ingredient technology is a proprietary blend of active fibers shown to nourish gut microbiome to support digestive health and well-being
How it helps:
Hill's® Prescription Diet® Gastrointestinal Biome actively promotes regular healthy stool and helps reduce risk of future episodes.
• Quick response - clinically tested to help firm loose stool in 24 hours
• Helps soothe digestive tract
• Promotes growth of beneficial gut bacteria to maintain digestive health
• S+OX SHIELDTM: Formulated to promote a urinary environment that reduces the risk of developing struvite & calcium oxalate crystals


Additional info:
Hill's® Prescription Diet® Gastrointestinal Biome Canine provides all the nutrition your dog needs. Please consult your veterinarian for further information on how our Prescription Diet® foods can help your dog to continue to enjoy a happy and active life.