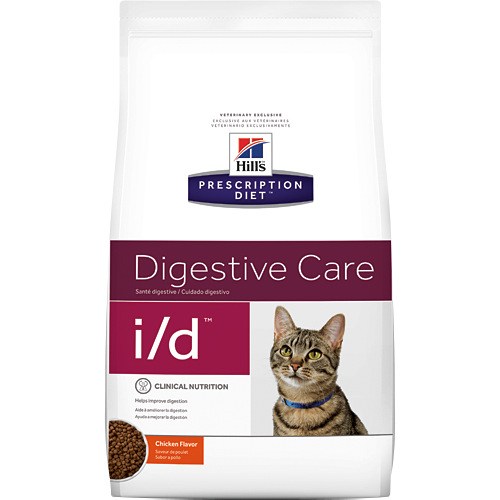 Hill's Prescription Diet i/d Feline Dry
Digestive Care 
Dietary indiscretion, food allergies, or lack of digestive enzymes can affect your cat's digestive health. Efficient digestion is essential for your cat to be able to build and repair tissues and obtain energy, and for these reasons it is important to feed a food that is formulated to help support digestive health.
Hill's nutritionists & veterinarians developed
Prescription Diet®
i/d® clinical nutrition especially formulated to support your cat's digestive health. In fact, i/d is clinically proven nutrition that helps improve digestion & stool quality.
How It Helps:
Replaces lost nutrients
Ensures easy nutritent absorption
Supports a healthy immune system
Meets the special nutritional needs of kittens
How It Works:
Highly digestible
High in electrolytes & B vitamins
Optimal blend of soluble & insoluble fiber
Enriched with omega-3 fatty acids
Clinically proven antioxidants
100% Guarantee
We're confident your pet will enjoy Hill's
®
Prescription Diet
®
foods. We're so confident that we offer a 100% money-back guarantee.
*