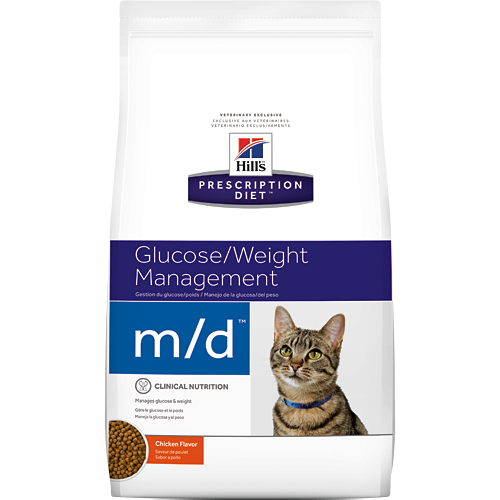 Hill's Prescription Diet Gluco Support m/d Feline Dry
Glucose/Weight Management 
57% of the cat population is overweight
1
. Even a little extra weight can lead to serious health problems. Extra weight reduces play time, impacts mobility and affects the general health of your cat. Factors contributing to weight gain include age, lack of exercise and overfeeding. Along with frequent physical exercise, choosing the right food plays a very important role in helping cats reach their proper weight.
Hill's nutritionists & veterinarians developed
Prescription Diet®
m/d® clinical nutrition especially formulated to support your cat's glucose and weight management. In fact, m/d is clinically proven nutrition to manage glucose and weight.
1
Pet Obesity Prevention 2014 Study
How It Helps:
Clinically proven to reduce body fat
Helps maintain lean muscle mass
Supports a healthy immune system
How It Works:
Therapeutic L-carnitine levels
High protein & low carbohydrate
Enriched with arginine and taurine
Clinically proven antioxidants
100% Guarantee We're confident your pet will enjoy Hill's® Prescription Diet® foods. We're so confident that we offer a 100% money-back guarantee.*