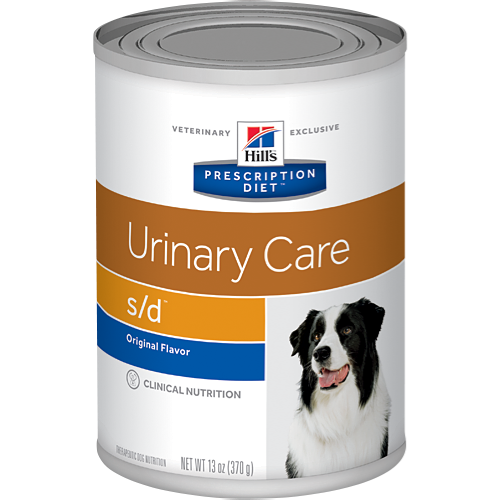 Hill's Prescription Diet s/d Canine Canned
Urinary Care

Bladder stones are collections of mineral crystals that combine together in the urinary tract. They can cause discomfort and lead to more serious problems that require the care of a veterinarian.

Hill's nutritionists & veterinarians developed Prescription Diet® s/d clinical nutrition especially formulated to support your dog's urinary health. In fact, s/d is clinically proven nutrition to dissolve struvite stones in as little as 6 days (average 13 days).
How It Helps:
Reduces the risk of struvite stone formation
Supports a healthy immune system
How It Works:
Promotes desirable urine pH levels
Low magnesium & phosphorus levels
Enriched with antioxidants
100% Guarantee We're confident your pet will enjoy Hill's® Prescription Diet® foods. We're so confident that we offer a 100% money-back guarantee.*
* 100% Satisfaction Guarantee - if you are unsatisfied for any reason, return the unused portion to the place of purchase for a full refund or replacement.