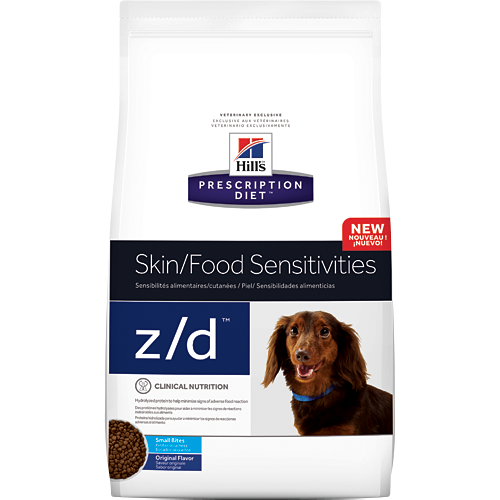 Hill's Prescription Diet z/d Canine Small Bites Dry
Regular price $69.96 Sale
Skin/Food Sensitivities
Food sensitivities and intolerance are potentially serious problems that can result in irritated skin, coat and ear conditions or even gastrointestinal upset. Dogs that have a food sensitivities or intolerance, also called adverse reactions to food, typically experience an abnormal response to the protein in the food. If your dog suffers from adverse reaction to food, it is even more important to feed the right food.

Hills nutritionists and veterinarians developed Prescription Diet® z/d® Small Bites clinical nutrition especially formulated to support your dogs skin and food sensitivities. In fact, z/d is clinically proven nutrition to help avoid adverse reactions to food.
How It Helps:
Visible improvement in skin & coat in 30 days
Clinically proven to help normalize stool
Promotes healthy skin barrier
Helps support a healthy immune system
Urinary safe
How It Works:
Highly hydrolyzed animal protein & single purified carbohydrate source
High levels of vitamin E and natural fiber
Essential fatty acid enriched
No gluten, soy protein, lactose, artificial colors, flavors or preservatives
Smaller, appetizing kibble for small jaws
100% Guarantee We're confident your pet will enjoy Hill's® Prescription Diet® foods. We're so confident that we offer a 100% money-back guarantee.*
* 100% Satisfaction Guarantee - if you are unsatisfied for any reason, return the unused portion to the place of purchase for a full refund or replacement.