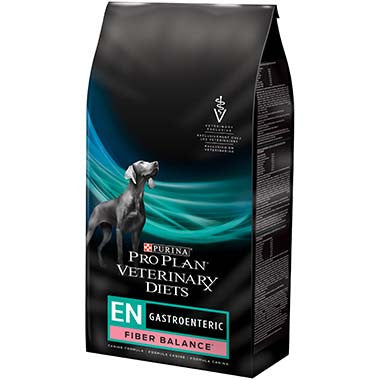 Purina Pro Plan Veterinary Diets EN Gastroenteric Fiber Balance Canine Formula Dry
Optimal level of fiber to help intestinal motility
Blend of soluble & insoluble fiber to help support GI health
Contains the prebiotic aleurone, soluble fiber that helps nourish beneficial microflora to promote a healthy GI tract
Purina® Pro Plan Veterinary Diets® EN Gastroenteric Fiber BalanceTM Canine Formula contains a blend of soluble and insoluble fiber chosen by nutrition experts that helps normalize intestinal transit time. Soluble fiber also helps promote greater water absorption. And for dogs with diabetes mellitus, this diet also contains high levels of complex carbohydrates to help reduce fluctuations in blood glucose.
Purina® Pro Plan Veterinary Diets® is committed to helping you and your veterinarian make a true difference in your pet's life. Our diets are backed by extensive testing and scientifically formulated to help nutritionally manage dogs and cats with certain medical conditions.
The science behind our therapeutic diets represents a collaboration between Purina pet nutrition experts, researchers and veterinarians, resulting in proven nutritional breakthroughs and great-tasting formulas produced with high safety standards.