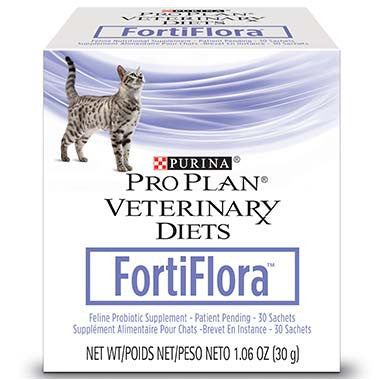 Purina Pro Plan Veterinary Diets Fortiflora Feline Probiotic Supplement
Probiotic supplement for dietary management of cats with diarrhea
Promotes intestinal balance
Promotes a healthy immune system
Purina Pro Plan Veterinary Diets FortiFlora Feline formula is the #1 recommend probiotic by veterinarians. It is a probiotic supplement for the dietary management of cats with diarrhea. Contains a source of live (viable) naturally occurring microorganisms.
Purina® Pro Plan Veterinary Diets® is committed to helping you and your veterinarian make a true difference in your pet's life. Our diets are backed by extensive testing and scientifically formulated to help nutritionally manage dogs and cats with certain medical conditions.
The science behind our therapeutic diets represents a collaboration between Purina pet nutrition experts, researchers and veterinarians, resulting in proven nutritional breakthroughs and great-tasting formulas produced with high safety standards.
Ask you veterinarian about FortiFlora® today