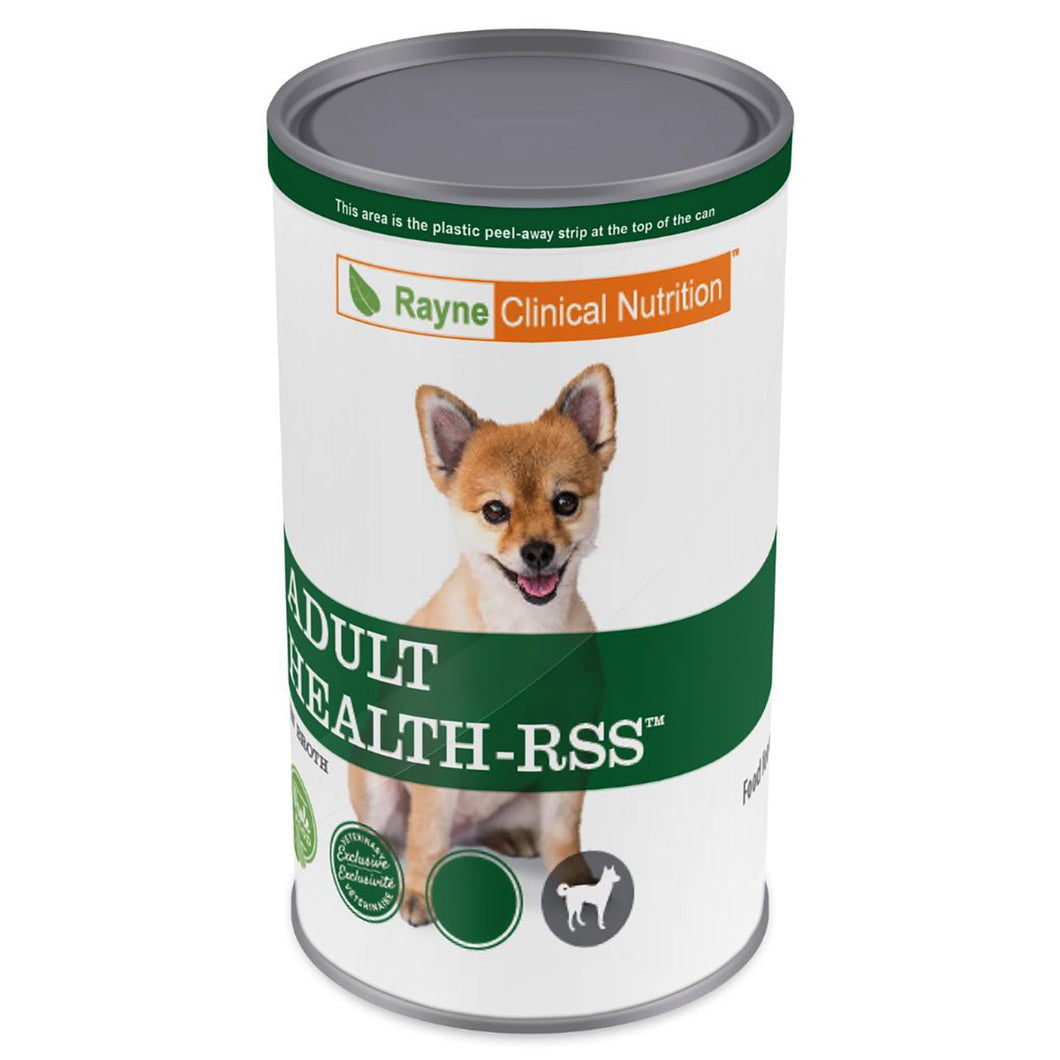 Rayne Clinical Nutrition Canine Adult Health Pork & Potato RSS Wet Dog Food
Regular price $84.15 Sale
Adult Health-RSS™ canine dry and wet diets are palatable maintenance diets which include ingredients selected to support urinary tract health.
The diets have undergone RSS (relative supersaturation) analyses at an independent laboratory to support their use in prevention and treatment of struvite and calcium oxalate urolithiasis.
Both diets contain pork, a palatable and digestible source of protein that is low in ash and phosphorus .
Potato is a highly digestible and low fibre carbohydrate source that contains high levels of antioxidants.
These multi-indication maintenance diets achieve appropriate urinary tract health parameters while containing moderate amounts of sodium.
The wet formula is low in total fibre to ensure optimal digestibility, contains prebiotics (FOS) to maintain gastrointestinal health, and has a restricted phosphorus content appropriate for use in early renal disease.

Features:
• RSS data for treatment and prevention of struvite and calcium oxalate urolithiasis
• Excellent palatability
• High quality protein – preserves lean body mass and may be protective against calcium oxalate uroliths
• High digestibility
• Low fibre content with added prebiotics (wet diet)
• Moderate sodium content
• Moderate phosphorus content (wet diet)

Therapeutic Indications:
• Adult Health Maintenance
• Dissolution and aid in prevention of struvite uroliths in adult dogs
• Aid in prevention of calcium oxalate uroliths in adult dogs
• Struvite and calcium oxalate urolithiasis with concurrent IRIS stage 1 and 2 non-proteinuric renal disease (wet diet)
• Gastroenteropathies responsive to digestible, lower fibre diets with concurrent/historical urolithiasis
• Pancreatitis in patients with concurrent/historical struvite and calcium oxalate urolithiasis (dry diet) patient dependent

INGREDIENTS
(WET): Pork, water, potato starch, pork liver, sunflower oil, calcium carbonate, guar gum, marine microalgae, salt, fructooligosaccarides, Vitamins (Vitamin E supplement, Vitamin A supplement, d-calcium pantothenate, niacin supplement, riboflavin supplement, thiamine mononitrate, pyridoxine hydrochloride, Vitamin D3 supplement, folic acid, biotin, Vitamin B12 supplement), minerals (zinc sulfate, ferrous sulfate, zinc proteinate, manganese sulfate, iron proteinate, copper sulfate, manganese proteinate, potassium iodide, copper proteinate, cobalt proteinate, sodium selenite), potassium chloride, tricalcium phosphate, taurine.
WET - ADULT HEALTH-RSSTM NUTRITIONAL DETAILS (Calculated **) & AMOUNT/CAN: Wet (369g) ME: 1,015 kcal/kg % as is; 4,230kcal/kg % dry weight Approximate kcal/can = 374 Percentage of Metabolizable Energy from: Protein 38.1 % Fat 38.1 % Carbohydrates 23.8 %